"Absolute Clarity" by Sophia Romma, directed by Yuri Joffe--a noted, Stanislavski prize-winning director from Moscow's Mayakovsky Academic Theater--will be presented by ArtVoice and Cinema Anastasia as an Off-Broadway production at the Players Theater, 115 MacDougal Street, January 31 to February 25. The play is loosely based on "She, in the Absence of Love and Death" by the famous Russian author Edvard Radzinski (1977). Radzinski's tragicomedy, originally set in a Soviet cityscape of the 1970s, has been re-imagined in the present-day Lower East Side, where its teenage heroine, a "white raven" and rebellious young artist, searches for love and absolution. The company of ten features a live onstage jazz band.
The piece is a cinematic, tragicomic coming-of-age story. Its central character, Clare, is a lonely lover, an irreverent dreamer, a rebellious daughter, and the obsession of jazz musicians. She evokes a number of Dostoyevskian themes as she lives in a world of melodies and double meanings: love is still love, even if it's imagined; death is still death, even if it's an accident. Clare struggles to actualize herself as an artist, fights for independence against her mother, briefly joins a pickpocket-filled jazz band, and revisits the lawyer and judge of her childhood custody trial, triggering disastrous consequences. Her world is populated by women who, like herself, grasp for kernels of happiness, and by men that they love and betray; who also abuse them mercilessly.
Radzinski's original play investigated the universal theme of a complex and troubled soul falling in love. It was one part of a trilogy with the collective title "Love's Riddle," including also "Don Juan's Adventures Continue" and "Once Again on the Topic of Love." "She, in the Absence of Love and Death" is set in a Communist world rife with single women but nearly lacking single men. The characters, each disillusioned with this sociopolitical situation, experience unique and delightful dreams, though their lives still seem disturbingly similar. The play is set in a 1970s communist cityscape in the Soviet Union, in which organized singles' parties dwelt side by side with the government. In the midst of this world is "She" (the character has no other name), a teenage girl who is a mouthpiece for the author. "She" speaks in the voice of a wise sage, in an extraordinary series of long monologues, all on the subject of love. The play's other characters, both men and women, converse endlessly about love. In a very quirky way, the play explores the difference between reality and imagination, desire and possibility.
Sophia Romma wrote her play in consultation with Radzinski. With his approval, Romma transformed his play's teenage protagonist into a personal creation of her own. "She," renamed Clare, became what in Russian cultures would be called a "white raven"--an artistic nonconformist, like Treplev in Chekhov's "The Seagull." Her dialogue is written rhythmically, to be accompanied by a punk-jazz band filed with pickpockets that she briefly joins and which accompanies her scenes. Subplots were also introduced that "raise the stakes" for Clare's youthful odyssey. She fights doggedly for independence from her mother, a former porno star who is now a lounge dancer. While searching for her birth father, she finds the lawyer who lost his case for custody of her as a small child and seduces him, leading ultimately to a tragic ending. Clare also engages in stunning episodes that are only played out visually, as when she paints her own body inside a "confessional" as an ultimate act of adolescent defiance.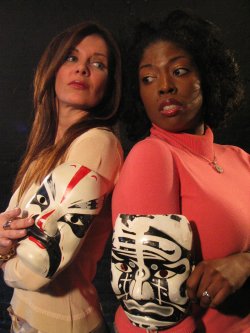 As Radzinski's Moscow apartment setting was transferred to a gathering of apartments on New York's Lower East Side, there was also a nearly complete shift in dramatic style. From a collection of spoken monologues, the play became a musically-accompanied, cinematically-styled collage. "Absolute Clarity" has no simple dramatic line, but a web of interconnections. There are no customary scenes; the action takes place separately and simultaneously in the various apartments. The characters share a common emotional line. If a question is raised, it is often answered in another part of the stage.
The idea for this play was born in Moscow in 2006, when noted Russian director Yuri Joffe observed Sophia Romma in her 2006 poetry book signing at the Gorky Literary Institute in Moscow. Joffe had previously directed Radzinski's "Conversations with Socrates" and "Nero and Seneca" and is planning an upcoming production of Radzinski's "To Kill a Man." Joffe saw similarities between Romma's poetry and the character of "She," who speaks of her own life in verse, and imagined that as a promising concept for an English language play. Joffe also knew Romma's playwriting style well, having directed her play, "Shoot Them in the Cornfields!" in New York in 2006.
Joffe had also directed "She, in the absence of love and death" in 2002 with his own interpretation, which set the play among the new generation of Muscovites and was very sinister in comparison to the original. From Joffe's perspective, the essential change from Radzinski's play to Romma's is the shift of the teenage protagonist from a philosophical obsession to a poetic incarnation. Since Clare is an artist, she accepts and sees the world in colors, art and poetry; this idea dictates the style of the play.
It is also worth noting that two of Radzinski's supporting characters are significantly changed: a soft-spoken intellectual in Radzinski's play becomes, in Romma's version, the attorney who opposed Clare's mother in the custody case. A doctor in the original play becomes the treacherous judge who ruled for the Mother, who was his mistress at the time, and who now has seduced the attorney's wife. The jazz band of pickpockets and its charismatic, seductive bandleader are entirely Romma's creation. Clare's mother, Patricia (a porn star turned lounge dancer), and her friend Labelle a (lounge singer), are Americanized adaptations of Soviet era characters.
The cast features Cara Francis as Clare, Victoria Guthrie as her mother, Mark Light-Orr as the attorney, Alexandra Bosquet as the lounge singer, Inbal Samuel as the attorney's wife, Steve Greenstein as the judge and Patrick Knighton as the prince of the pickpocket band. The musicians are played by Alexander Elisa, Jason Yachanin and Brianne Berkson.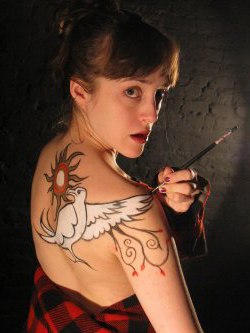 Sound Design is by Zachary Williamson. Set Design is by Anastasia Glebova. Costume Design is by Anastasia Glebova. Lighting Design is by Russel Drapkin. Scenic Design is by Gregg Bellon. Costume realization, makeup and hair are by Robert Eggers. Stage manager is Sergio Cruz. Producer is Barbara Okishoff
Edvard Radzinski is a world-famous playwright, whose dramas are out-produced in Russia only by Chekhov's. However to-date, his plays have only been produced in New York by Jean Cocteau Repertory, which presented "An Old Actress in the Role of Dostoyevsky's Wife," "Socrates, Theater of Life" and "Theater in the Time of Nero and Seneca" in the '80s and early '90s. In the last 15 years, Radzinski has left playwriting behind to fashion controversial, hugely successful biographies of historical figures, including "Stalin," "The Last Tsar: the Life and Death of Nikolai the Second" and "Rasputin, the Last Word." He is famous throughout Russia, especially in Moscow, for hosting the television program "Mysteries of History." Currently, Radzinski is working on opening a new cultural center in Moscow, where diverse theatrical directors will be invited to participate in a theatrical laboratory whose output will be filmed and broadcast on television. Mr. Radzinski believes that theater can broaden its horizons if it has the opportunity to be examined by the scrupulous eyes of television.
Director Yuri Joffe has been a director of the Mayakovsky Academic Theater since 1976, where he has overseen the production of over thirty stage plays. He earned his Doctoral Degree in directing from the prestigious Gitis Academy of Theater Arts and has directed plays by world-renowned authors including Babel, Ostrovski, and Mrozeck. In 1994, President Boris Yeltsin personally awarded Mr. Joffe with the highest honorable medal for outstanding direction in Marina Tsvetayeva's "Theater". In 2003, he received the Stanislavski Award for his co-direction of Fyodor Dostoevsky's "The Brothers Karamazov" with the celebrated Head Director of the Mayakovsky Academic Theater, Sergei Arzibashev. He frequently collaborated with one of Russia's most famous theatrical Master Directors, Andrei Goncharov. Mr. Joffe has been a Professor for more than fifteen years at the Gitis Academy of Theater Arts where he runs a Master Class in the Art of Acting and Directing.
Playwright Sophia Romma (who also writes under the name Sophia Murashkovsky) emigrated with her parents from Russia 27 years ago. She received her MFA at NYU. She is author of the film "Poor Liza," directed by Slava Tsukerman ("Liquid Sky") starring Ben Gazzara, Lee Grant and Barbara Babulova. The film adapts a classic Russian story by Nikolai Karamzin about a beautiful peasant girl who is seduced and forsaken by a young nobleman. "Poor Liza" won the Grand Prix Garnet Bracelet for best screenplay at the Gatchena Literature and Film Festival in St. Petersburg. She has had three productions at La MaMa E.T.C.: "Love, in the Eyes of Hope, Dies Last" (1997), a journey through contemporary Jewish/Russian immigration in a series of eight playlets, "Coyote, Take Me There!" (1999), a surrealistic work on the ordeal of immigration and the corruption of the American dream, and "Defenses Of Prague" (2004), a story of revenge set among the gypsies in 1968, on the brink of the Soviet invasion of Prague.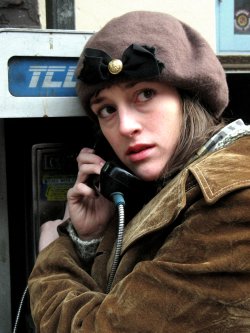 Her other plays include "Lenin Bound" and "The Language of the Gods." She has produced the short narrative films "Commercial America in the 90s" and "The Frozen Zone." Her book of poetry, "God and My Good," was published by the Gorky Literary Institute and is now up for a literary award for Poetry of the Year. In 2005, Ms. Romma saw the publication of her contemporary art catalogue, "Essence of Art-Essence of Life," presented at the Hermitage Museum in St. Petersburg. She recently earned a Ph.D. at the prestigious Gorky Institute of Literature in Moscow. She teaches American Literature at Touro College, runs a playwriting and screenwriting workshop at the Frederick Douglass Creative Arts Center and occasionally instructs screenwriting at McGill University in Montreal. Her last play, "Shoot Them in the Cornfields!" was directed Off-off Broadway by Yuri Joffe in 2006. This winter, she awaits the publication of her anthology of love poems, "Garden of the Avant-garde."