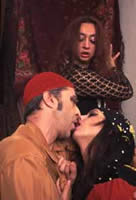 The First Floor Theatre
January 22 - February 8, 2004
Thursday - Sunday 8:00pm
Sunday Matinee 2:30pm

playwright Sophia Murashkovsky
director Leslie Lee
music Eugene Doga
set design Dara Wishingrad
sound design Nick Moore
lighting design Russel Drapkin
costume design Rosemary Ponzo
character movement Susan Henle-Christensen
gypsy dancing Svetlana Yankovskaya, Meline Mazmanyan, Olga Shumovych & Gabriel Yakubov
gypsy singer Vasily Romany
violinist Sergei Riybtsev
cast Walter Krochmal*, Maila Miller, Julia Saad, Channie Waites, Chris Alonzo, Vina Less, Nina Savinsky, Phillipe Mallerov, Elena Raffloer, Dan Kastoriano, Inna Zozulya, Robert Eggers, Maya Levy, Meghan Andrews*, Svetlana Yankovskaya, Grant Morenz, Udi Razzin, Angelica Ayala & erin Lehy

DEFENSES OF PRAGUE, a new play by Sophia Murashkovsky, is directed by the Obie-winning and Tony-nominated playwright Leslie Lee. It is a fast paced, shifting story of revenge set among the gypsies in 1968, on the brink of the Soviet invasion of Prague, in which a tormented gypsy dancer, fleeing from the Russians (who held gypsy souls in contempt), imagines a modern-day Golem which has risen to defend the ghetto.
The play is a story from her dreams. A Tsiganka (Gypsy-sorceress), symbolically named Prague, finds work in a sacrilegious cabaret which is housed in a synagogue near a crowded old Jewish cemetery. There she falls under the power of its diabolical MC, who is said to be an actual descendant of the Rabbi who built the mythical 17th century Golem of Prague. Having taken him as her pimp, she learns that he had corrupted her Gypsy mother's soul as well, leaving her to wither on the streets of Prague. The Golem, protector of the ghetto, is again on the loose, her creator--the pimp--having lost control of his creation. The tale is told through cabaret performances with hypnotic dancing and mournful madrigals. The girl's mother comes to life as a Mullo (the Romani word for the "living dead"), possessing her daughter's body and hounding her tormentor, avenging her own death while protecting her daughter's precious life. Equipped with the distinct knowledge of Prague's true identity, Golem takes even greater pleasure in parading the Gypsy's scantily dressed body about the stage like some unruly animal, all the while providing the audience with biting political and social commentary on the invasion of Prague by Soviet forces and its inevitable outcome. As her dislocated soul gropes for meaning, she improvises her lyrics and melodies, imbuing them with her "Romany" identity and with unheard-of emotional intensity and depth. As the mad-with-grief Gypsy dancer metamorphosizes into an s/m prostitute, her tragic revenge against her pimp/lover lifts her--and the audience--to the brink of insanity.Her fighting spirit notwithstanding, Prague finds herself in an unbearable predicament: She is neither Czech nor Russian, but Gypsy, so she endures discrimination from both sides. Still, she searches for the equality of women, an end to intolerance of the "wandering" Gypsy soul, and a growing respect on the part of callous men.There is ample Gypsy dancing, Flamenco, and Gypsy music by Eugene Doga. The cast includes Svetlana Yankovskaya, Elena Raffloer, Meline Mazmanyan, Olga Shumovych, Gabriel Yakubov, Vasily Romany, and Serguei Riybtsev, who are real Gypsies and bring a lifetime of experience to their roles.Playwright Sophia Murashkovsky emigrated with her parents from Russia twenty five years ago. Writing under the name of Sophia Romma, she is author of the film "Poor Liza," directed by Slava Tsukerman ("Liquid Sky") starring Ben Gazzara, Lee Grant and Barbara Babulova. The film adapts a classic Russian story by Nikolai Karamzin about a beautiful peasant girl who is seduced and forsaken by a young nobleman. "Poor Liza" won the Grand Prix Garnet Bracelet for best screenplay at the Gatchena Literature and Film Festival in St. Petersburg. Ms. Murashkovsky made her La MaMa debut in 1997 with "Love, in the Eyes of Hope, Dies Last," a journey through contemporary Jewish/Russian immigration in a series of eight playlets, and followed with "Coyote Take Me There" in 1999, a surrealistic work on the ordeal of immigration and the corruption of the American dream. She received her MFA at NYU. Her other plays include "Lenin Bound" and "The Language of the Gods." She has produced the short narrative films "Commercial America in the 90s" and "The Frozen Zone." She has a published book of poetry entitled "God and the Good" and a collection of nine short stories entitled, "Blue Devils." She is currently defending her Ph.D. dissertation at the prestigious Gorky Institute of Literature in Moscow. Meanwhile, she teaches American Literature at Touro College, runs a playwriting and screenwriting workshop at the Frederick Douglass Creative Arts Center and occasionally instructs screenwriting at the New York Film Academy.Director Leslie Lee is an Obie-winner and Tony-nominated playwright whose plays include "Elegy to a Down Queen" (musical and non-musical versions) and "Cops and Robbers," all of which were produced by La MaMa. He received an Outer Critics Circle Award, an Obie and a Tony nomination for "The First Breeze of Summer." His directing credits include the original production of David Rabe's "The Basic Training of Pavlo Hummel" in Philadelphia. He directed "Love, in the Eyes of Hope, Dies Last" and "Coyote Take Me There" by Sophia Murashkovsky at La MaMa. He started the directing program at SUNY Westbury.Set design is by Dara Wishingrad. Costume Design is by Rosemary Ponzo. Lighting design is by Russell Drapkin. Sound design is by Nick Moore. Choreography is by Stas Kmiec. Director of Movement is Susan Henle-Christiensen. Props and special effects are by Jacqueline Wade, who is also Assistant Director. The actors are Walter Krochmal, Nicholas Mongiardo-Cooper, Angelica Ayala, Nina Savinsky, Julie Saad, Vina Less, Maria Hurdle, Chris Alonzo, Dan Kastoriano, Maya Levy, Gary Andrews, Malia Miller, Channie Waites, Robert Eggers, Meghan Andrews and Erin Lehy.