"USED AND BORROWED TIME"
Through a multi-dimensional microcosm,
a disturbing parable on racial hatred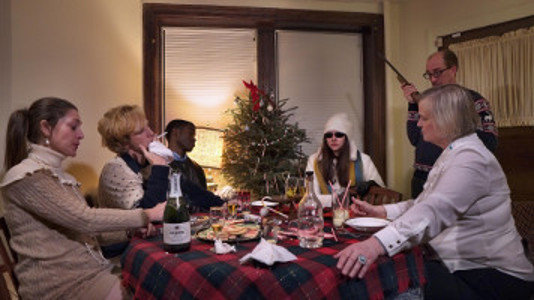 "Used and Borrowed Time," written and directed by Sophia Romma
Presented by Garden of the Avant-Garde Film and Theatrical Foundation in association with Reval Film Studio (Estonia)
Color, Runtime 3:36
film's website: www.usedandborrowedtime.com
Video on demand: Amazon Prime, Apple TV and the Vyre Network.
Reviewed by Beate Hein Bennett May 7, 2021 at Quad Cinema, New York, NY.
Sophia Romma's film, "Used and Borrowed Time," centers on an ill-fated interracial love affair between a blind Jewish girl and a black young man in Birmingham, Alabama in the 1960s. Their love affair, and racism it exposes, are the center of a psychological drama phantasma that very likely had the distinction of being the first new work to be screened in New York when the Greenwich Village art houses reopened after the Covid-19 lockdown.
Dreams, memories, and films have much in common: images float through (mind) space without time boundaries and combine into fantastic sequences of actions and happenings seemingly beyond logic. Our sense of reality is reorganized and challenged by surreal visions of the beyond. A film can capture and re-create visions where past, present, and future form into a fugue of sounds, movements, colors, where things metamorphose from one thing into another where we can be transported in an instant from horror to bliss. Film is a two-dimensional medium within a square frame but within that frame and those two dimensions multi-dimensional worlds can be fabricated.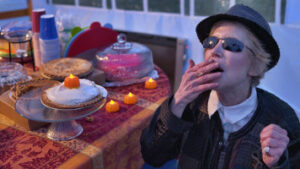 Sophia Romma creates a multi-dimensional microcosm in this film. An actual tragic event that happened in Birmingham, Alabama in the 1960s during the height of the civil rights struggle is the basis for the central plot: a fatal love encounter between a blind Jewish girl and a black young man. White racist intolerance and laws against any mixed race relations in the Southern US had reached a fever pitch of hatred, and murderous vigilante actions had become an all too common occurrence. Sophia Romma had heard a first source account of such a fatal love affair from a cousin of the young black man who was viciously murdered. She uses this basic plot and weaves a phantasmagoric psychological thriller around it in which the central character, the blind Jewish woman, travels through time where the present turns into the future of the past—a dizzying trip replete with hyperbolic poeticized speech, special effects of supersized cats, snakes, and rabbits with glowing eyes, hyperactive or somnolent Alabama rednecks, gun-toting, spewing vile racist vulgarities or Baptist-belt prayers, sodomizing each other or anything that moves—in short, all stops are pulled in this film through the presentation of horrific human caricatures juxtaposed with the awkwardly semi-innocent love affair between the blind sixteen year old girl and the gentle black young man who get lost in the woods and end up in the woodshed of the murderous backwoods folk on Christmas eve.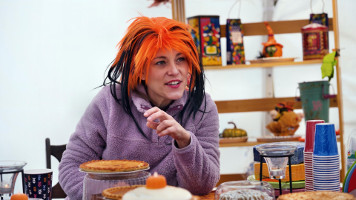 The main frame of this retro-plot is set at a surreal Alabama Halloween country fair with several freak-show booths: a seller of fake art with a tortoise and a cobra in cages, a Romani fortune teller (she speaks Romani), and, most importantly, a seller of magical pies the taste of which can take one into one's past (good if you pay, nightmarish if you don't). A blind older woman, purportedly a New York actress, having returned to her birthplace for a visit with her granddaughter, thus re-enters the nightmare of her youth upon eating from one of those pies. A gorgeous black singer in a gold gleaming slink of a dress, Queen Ilise with Her Four-Piece Band, weaves a soothing love ballad as an ironic leitmotif throughout the Halloween nightmare.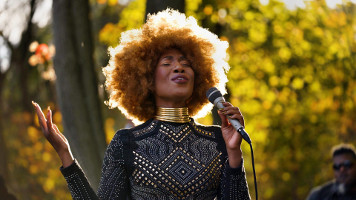 Sophia Romma who wrote, directed, and plays one of the Roma fortune tellers, is of Ukrainian, Romanian, and Romani extraction; she immigrated with her mother from Soviet Russia in the 80s. Her directing style is rooted in theatre where language plays a major part in developing the interactions between characters and informs the motivations of the actions, directly or through subtext. Film relies for impact on the manipulation of imagery and movement through camera angles and close-ups, and ultimately through editing; language plays a secondary part and is most effective when used sparingly and poignantly. By contrast, Ms. Romma has devised a rhetorical style, called Quantum Verse based on the idea that dialogue contains two parallel levels of speech, direct simple communication and one that is derived from a metaphysical realm. In this film the prolific dialogue thus veers among several styles: a crude impression of Southern racist speech patterns, rhymed verse, objective commentary, Baptist prayer tropes, Hebrew prayer, Roma fortune-telling tropes—the Hebrew and Romani segments have super-titles. In fact, the three and a half hour film has non-stop dialogue; given that it was rehearsed and filmed before COVID hit (on Long Island) from November 2019 until January 2020, the actors have to be given credit for learning this complex text in such a short time. Aside from the use of rhymed verse to affect the metaphysical dimension, Ms. Romma's attempt at Southern lingo relies on the worst clichés thus emphasizing the cartoonish quality of the characters. With models of Southern writers such as William Faulkner, Flannery O'Connor, Eudora Welty, Gloria Naylor whose cadences rendered the tragedy and the horror of the South so richly with even the vilest characters, the film's text by comparison often rings false. The cast, an ensemble of twelve, most of whom have worked with Ms. Romma before, gives a fully committed, albeit somewhat overblown performance of this horrific tale—no doubt some of the actions and the language must have been rather difficult to render in our time of heightened racist conflict.

The older blind Eva Gold, played by Cam Kornman as a lively and curious but also shrewd and personable character, enters the scene with her granddaughter who leaves her in the "care" of the fake art seller Fred Busch, played viciously by Seth Hendrickson. Frightened by his strange ranting racism, she stumbles into the booth of the maniacal pie-baker Kitty O'Neill sporting a wild orange-black wig, played by Alice Bahlke. With a nasty leering smile she lets her try one of her magical pies that transports Eva back to that fateful 1964 Christmas Eve in Alabama when, at age 16, she discovered love with a young black man.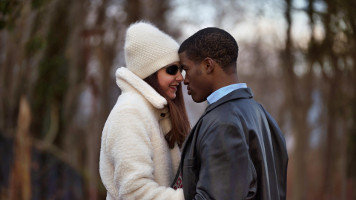 The scene metamorphoses to the young lovers: Emily Seibert plays young Eva as a coquettish teenager, simultaneously frightened and curious about love making; Clas Duncan as the young Civil Rights activist Steadroy Johnson is reserved, cautious, gentle but determined to make this love tryst work. And so they end up in the woodshed of the Woods family. From here on, the horror unfolds. The Woods family is preparing for a Christmas Eve dinner preceded by the obligatory prayer of thanks, presided over by the harridan matriarch Blanche, played with outlandish and relentless loudmouth viciousness by Maureen O'Connor; her degenerate hyper-racist sick and violent brother Wade, played by Grant Morenz just as relentlessly disgusting, interjects his sardonic bad jokes; her somnolent son Jed, played by Gavin Rohrer, stumbles along like a drugged-out idiot impotently trying to execute his mother's orders; and her frisky daughter Lorna, now proudly married to a Congressman, arrives late to join the Christmas dinner (why?) and is by turns appalled and amused by her redneck family—double-cast Alice Bahlke plays this part as an "uppity" sophisticate.

The cast of characters is rounded out by Steadroy's father, Marshall Bonny, a widower and disillusioned former civil rights activist, played with palpable pain by Weldon Johnson, and his friend Ox King, an imposing black strongman, played by Chad McCord. And lastly, another prominent Halloween booth figure is the Romani Fortune Teller/Sorceress played with a languorous authenticity by Manana Gitana.

The technical team was provided by Reval Film Studio (Estonia), and the film was completed in Estonia. Cinematographer Uladzimir Taukachou (A.S.C.) and Visual Effects by Serjio Samokhvalov with Color Correction by Kirill Vlassov created some stunning visual moments. The original music by Queen Ilise and her band is sensuous R&B with additional music by Kevin Macleod. Sound director is Alex Voronin. Executive Producer is Renee Lekach. Sergei Voronin, the Producer with Reval Film Studio, is also credited as Editor. While the fluid dramaturgy worked for the narrative of the film, tighter editing would have avoided some unnecessary repetitiveness and concentrated the sense of impending doom with a stronger impact—and brought the duration of the film closer to the conventional 120 -150 minutes. Nevertheless it is a disturbing parable on racial hatred that vexes so much of our present world. The film has been nominated and received multiple international film festival awards; it is translated from the original English into Greek, Spanish, and Italian and is currently available on Amazon Prime, Apple TV, Roku, and the Vyre Network.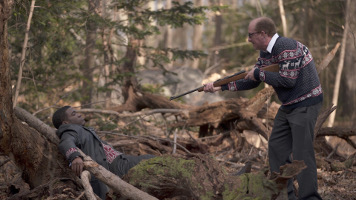 Stills by Uladzimir Taukachou and Alex Arbit.