On May 21, the Library for Foreign Literature in Moscow presented an outstanding cross-cultural event. A searing play about Marina Tsvetaeva, one of Russia's most intense and uncompromising poets, who was very Russian and international herself was performed. Tsvetaeva spent much time abroad and spoke several languages. The Past Is Still Ahead premiered at the legendary Mayakovsky Academic Art Theater in April 2007 and recently ran with great success in New York, as it seemed to capture the sacred pattern of the poet's life. It will also be shown in London and Oxford this summer.
The Past is Still Ahead is a play written and staged by Sophia Romma, an American playwright and poet, based on a monologue by Oded Be'eri, a prolific Israeli author with Elena Romanova, one of the most talented actresses of the Mayakovsky Academic Arts Theater, staring as Tsvetaeva and supported by a group of Russian and American actors.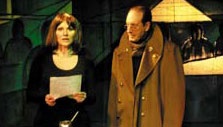 This haunting performance captures the emotional and creative life of Marina Tsvetaeva, who was also victimized by Stalin. Tsvetaeva's tragic life reflects the profound and appalling suffering endured by the Russian people during the first half of the 20th century.
The Past Is Still Ahead portrays the poets' comprehensive vision of life, perceptions of people and romance with the most significant poets of her time, which gave inspiration to her poetry and drama to her family. The play's major motifs revolve around the relationship that Marina Tsvetaeva established with poets Sophia Parnok, Boris Pasternak and Osip Mandelstam. We witness her correspondence with Rainer Maria Rilke in the summer of 1925; celestial Rilke, with his extraordinary eloquence and personal meditation on the creative process – offering Marina a combination of power and illuminated poetic vivacity. Marina never actually met her cherished Rilke, but nevertheless, he was her escape from the political turmoil and social devastation wrought by the Russian Revolution and later during her long exile. The play shows the imaginary, idealistic world of Marina Tsvetaeva with Rilke by her hand, in contrast to harsh and injured reality.
Marina was born into the family of Professor Ivan Tsvetaev, a founder of the Moscow Fine Arts Museum. Marina's mother was a pianist, who died early of tuberculosis, a disease, which killed many at the turn of the 19th and 20th centuries. Marina and her sister Anastasia spent much time with their sick mother in Switzerland and Germany, receiving their education at home. Their mother's early death and a return to regular school studies in Moscow affected both girls considerably, leaving them with the invariable desire to find mother-daughter relations in their adult life.
Marina started writing her poetry and published her first books very early. Her married life and a mother's responsibilities were never easy and encouraged her to flee into her poetic world. After the dramas of WW I, the 1917 revolution, the Civil War, the death of their baby Irina and starvation, she and her husband Sergei Efron fled Russia for Paris. The family had to take a complicated decision to go back to Russia in 1939 when her husband fell under a dark cloud of suspicion in France, however they were then labeled as enemies of the Soviet State in Russia. Her husband and daughter Ariadna were arrested, and she had to go to the small town of Yelabuga on the Volga River with her adolescent son with no means to support them both. In film-noire style, we witness horrific scenes of the sinister NKVD Officer mercilessly interrogating Marina Tsvetaeva there. In despair, Marina hangs herself; giving life to her poetry for eternity.
Many readers in both the East and the West have been enthralled by Marina's poetry; marveling at her strength, moved to tears by the sheer depth of her emotions and her steadfast obstinacy to fall in love with the swirling word as well as with some of the most gifted poets of the 20th century.
Elena Romanova, plays the role of Marina Tsvetaeva marvelously; she has starred in more than twenty leading roles in the theater and cinema. She has performed in Geneva with François Rochaix (general director of the Carouge Theater) in Atelier, and played the lead in a great many films in America, Russia, Sweden and Greece.
An accomplished screen and theater actor, (in Moscow as well as in New York), Alexander Rapaport plays the role of the NKVD officer, who materializes as a dark presence throughout the play representing the horrors and pressures to which Tsvetaeva had been subjected in the last years of her life.
Tosh Marks, a consummate and stylish actor strikingly introduces us to a variety of personalities in the drama, from Rainer Maria Rilke to Sergey Efron and even Osip Mandelstam – all of them vital keys to Marina's life and work. World- renowned concert pianist, Inna Leytush plays Marina Tsvetaeva's mother. Opera vocalist, Soprano Helen Fosturis, plays the role of Marina's muse, performing originally composed music to Tsvetaeva's poems.
There are a lot of beautiful musical pieces in this play by famous Russian composers – Tchaikovsky, Rakhmaninov, Rimsky- Korsakov, and Shostakovich.
One can only hope that dedicated theatergoers will have more chances to see this extraordinary play in Moscow, New York or London. However, the most logic venue for such an event should be the theater in Yelabuga, when the play is translated into Russian.