DIRECTED BY YURI JOFFE
OF MOSCOW'S MAYAKOVSKY ACADEMIC THEATER
This play was presented April 2 to 23, 2006 by Cinema Anastasia Productions at The Producers Club Theaters (PC2 Theater), 616 9th Avenue (between 43rd and 44th Streets), NYC.
"Shoot Them in the Cornfields!", a play by Sophia Murashkovsky, was directed in its world premiere in April, 2006 by Yuri Joffe, a noted, Stanislavski prize-winning director from Moscow's Mayakovsky Academic Theater. The play is a fictionalized family history that time-trips between World War II, the Khruschev reign, and the heady days of the coup d'état of 1991. It is a first-person account of an aging Jewish woman, Yelena Levin, and her husband, Mikhail Levin, who were both banished to Butirka, one of the most notorious criminal prisons of the Soviet Union, for entrepreneurship during Nikita Khrushchev's oppressive anti-intellectual reign in 1958.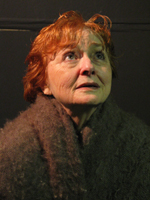 In an ethereal poetic voice, Ms. Murashkovsky paints the unbearable life story of Yelena as an account told to her granddaughter, Sonya. The latter is a rambunctious second generation American writer who is gripped by asthmatic paralysis and youthful neurosis. The young woman resists her grandmother's tale due to her own desire to forsake America and move to Russia for a twisted soldier, Dimitri, who once served in Afghanistan. The drama springs off the premise of an ancient Russian Proverb: "To live a life is not as simple as crossing a field."
The sensitive play spins a spool of romanticism as Mikhail, as a young, hopeful soldier, meets his future bride in the moments before his deployment to Stalingrad. With her grandmother's words ringing in her head, Sonya undergoes a twisted parallel journey fifty years later, in the three days that shook the world in Moscow during the coup d'état of 1991; as the lust of a hot-headed soldier overrules the innocence of a young girl's ethereal first love. The dramatic treatment is time-tripping and impressionistic, with abundant use of surreal flashbacks, live music, filmed flashbacks and rhyming poetic dialogues.
ABOUT SOPHIA MURASHKOVSKY
Playwright Sophia Murashkovsky emigrated with her parents from Russia twenty five years ago. She received her MFA at NYU. Writing under the name of Sophia Romma, she is author of the film "Poor Liza," directed by Slava Tsukerman ("Liquid Sky") starring Ben Gazzara, Lee Grant and Barbara Babulova. The film adapts a classic Russian story by Nikolai Karamzin about a beautiful peasant girl who is seduced and forsaken by a young nobleman. "Poor Liza" won the Grand Prix Garnet Bracelet for best screenplay at the Gatchena Literature and Film Festival in St. Petersburg.
Her plays are all written in a genre which she has labeled Drama Phantasma in Verse. It is characterized by a phantasmagorical lyricism coupled with satire. While her earlier plays were completely invented, "Shoot Them in the Cornfields!" is somewhat nonfictional, as it is inspired by the actual lives of her grandparents, upon whom the characters of Yelena and Mikhail Levin are based. In the 1940s and 50s, while mentally retarded Soviet citizens were being secretly executed in a government program of ethnic cleansing, the Levins provided livelihoods for retarded citizens as workers in their underwear factory. It was a grand entrepreneurial idea in a country which could accept neither a capitalist nor a Jew. For the crime of entrepreneurship, her grandfather served ten years in Butirka and her grandmother served two.
Ms. Murashkovsky has had three productions at La MaMa: "Love, in the Eyes of Hope, Dies Last" (1997), a journey through contemporary Jewish/Russian immigration in a series of eight playlets, "Coyote, Take Me There!" (1999), a surrealistic work on the ordeal of immigration and the corruption of the American dream, and "Defenses Of Prague" (2004), a story of revenge set among the gypsies in 1968, on the brink of the Soviet invasion of Prague.
Her other plays include "Lenin Bound" and "The Language of the Gods." She has produced the short narrative films "Commercial America in the 90s" and "The Frozen Zone." Her book of poetry, "God and My Good," was published by the Gorky Literary Institute and is now up for a literary award for Poetry of the Year. She has also recently published a collection of nine short stories entitled, "Blue Devils." She is currently defending her Ph.D. dissertation at the prestigious Gorky Institute of Literature in Moscow. Meanwhile, she teaches American Literature at Touro College, runs a playwriting and screenwriting workshop at the Frederick Douglass Creative Arts Center and occasionally instructs screenwriting at the New York Film Academy.
ABOUT THE DIRECTOR
Director Yuri Joffe has been a director of the Mayakovsky Academic Theater since 1976, where he has overseen the production of over thirty stage plays. He earned his Doctoral Degree in directing from the prestigious Gitis Academy of Theater Arts and has directed plays by world-renowned authors including Babel, Ostrovski, and Mrozeck. In 1994, President Boris Yeltsin personally awarded Mr. Joffe with the highest honorable medal for outstanding direction in Marina Tsvetayeva's "Theater". In 2003, he received the Stanislavsky Award for his co-direction of Fyodor Dostoevsky's "The Brothers Karamazov" with the celebrated Head Director of the Mayakovsky Academic Theater, Sergei Arzibashev. He frequently collaborated with one of Russia's most famous theatrical Master Directors, Andrei Goncharov. Mr. Joffe has been a Professor for more than fifteen years at the Gitis Academy of Theater Arts where he runs a Master Class in the Art of Acting and Directing.
The Mayakovsky Academic Theater is one of the major theaters in Moscow, of equal standing with the Moscow Art Theater, the Chekhov Theater of Moscow, Gorky Theater of Moscow, Savrimenik Theater, Leninsky Comsomol Theater, The Pushkin Theater, The Maly Theater and Ostrovski Theater of Moscow. The only more prominent institution in Moscow is the Bolshoi Theater. When founded in 1922, The Mayakovsky Academic Theater took over a historic building that had previously housed the Paradiz Theater in the late 19th century, hosting foreign and St. Petersburg companies and celebrities of the time, including Sarah Bernhardt and Eleanora Duse. Its credo is that theater's expressive means must renew permanently to provoke response from contemporary audiences.
CAST AND STAFF
The actors were Nikolay Svirdchik; sound design and lighting design are by Rod Barnes; choreography and staging are by Marco Puente; character movement was by Grant Morenz; costume design was by Galina Gaintseva; vocalist/musical director was Stephen Borsuk; director of cinematography was Mario Chioldi; dancing was by Amir Raissi and Nuria Martinez.