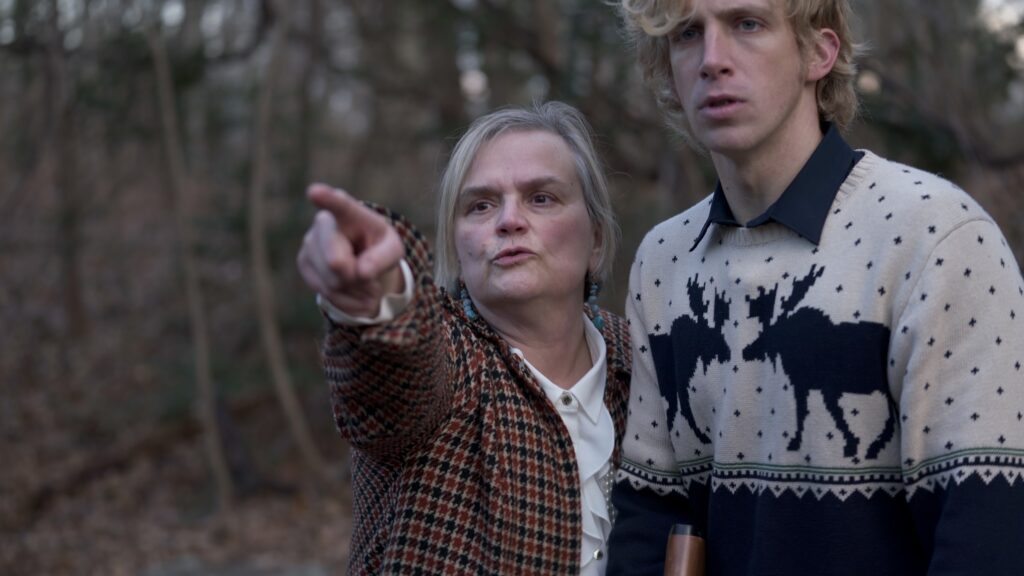 Directed by: Sophia Romma
Running time: 3 hour 37 minutes
Release date: May 7, 2021 (World Premiere - NYC Quad Theater)
Genre: Drama, Fantasy, Social Issues, and Romance
Distributor: Garden of the Avant-Garde in association with Revel Film (Estonia)
In a film written and directed by Sophia Romma, a playwright, poet and director of theater, and civil rights attorney comes an apocalyptic parable on racial hatred. This non-conformist thriller is a psychological drama phantasma in which an interracial couple's idyllic love rises above hatred in segregated 1960s Alabama.
The setting is modern-day Birmingham, Alabama on All Saints Day, when an elderly blind Jewish actress from New York City Eva Gold (Cam Kornman) accompanied by her granddaughter Sonia visit a country fair. Eva meets Kitty O'Neill (Alice Bahlke), a culinary vendor whose pie recipe has magical powers. After being ridiculed by bigotted vendors Eva decides to sample the pies and it sends her into a trance magically transforming her to 1965 to relive her (young Eva - Emily Seibert) romance with her African American civil rights advocate boyfriend Steadboy Johnson (Clas Duncan).
Reliving the past is not a pleasant as Eva wants, she is reliving the tyranny unleashed upon her and Steadboy by the merciless white supremacist Wood family. The racist Wood family led by matriarch Blanche (Maureen O'Coonor) includes her brother Wade (Grant Morenz), son Jed (Gavin Rohrer), and daughter Lorna (Alice Bahlke). Once Eva and Steadboy are captured and kidnapped by the demonic racist Wood family their lives are in question. Raging bigot vengeance is the tone expressed on screen by emerging performances. With the use of multi-dimensional film structuring urban fantasy elements takes the audience on a supernatural trip. This story has strong tropes, such as gritty action and a noir feel, along with an outstanding music score of original songs by Queen Ilise and Her Four-Piece Band. Filmmaker Romma's poetic and rhythmatic style dialogue adds a unique feel to cinema, which she labels Drama Phantasma in Verse.
The flashback scenes are mystical for the audience's eyes - much like "eye candy". However, the content of racial discrimination and violence is surreal and tense. The tension revolves around anticipation and suspense, which highlights noir and promoting moods of melancholy, alienation, bleakness, pessimism, moral corruption, evil, guilt, and paranoia. Shocking yet mesmerizing, the emotionally impacting story borders dark comedy specifically that related to death and hate, and treated in an unusually humorous or satirical manner while retaining the seriousness, often for the audience to experience both laughter and discomfort, sometimes simultaneously.
This overall ensemble performance is brilliant and hits its mark. The impeccable staging on screen shows that the actors throw themselves into their roles. This is a unique means in cinema production, as it is a plot-driven presentation, portraying realistic characters, settings, life situations, and stories involving intense character development and interaction. However, there is a sense of this being epic by way of its historical value as it covers an expanse of time.
The crisp pacing won't let you take our eyes away and remedies the lengthy running time. As the supporting cast members that include Marshall Bonny, Manana Gitana, Seth Hendricksen, and Ox King enhance this powerful narrative, Used and Borrowed Time is a relevant and poignant cinematic production depicting a moral and political plague that still ravages America mindset on racial and ethnic discrimination.
FILM RATING (B+)
https://filmshowcase.webs.com/apps/blog/show/49881251-used-and-borrowed-time-review-by-gerald-wright