"There's not a poor jew. They control media, show business, airlines". "Chinese are everywhere, taking everything". These are two of the lines of the beginning of the experimental movie USED AND BORROWED TIME by Sophia Romma.
The imprint is therefore clear since the very beginning. Racism and bias are the themes of the movie, eviscerated through a deep plot that tells the story of the blind Eva Gold (portrayed as young by the very good Emily Seibert and as old by the amazing Cam Kornman).
Eva is a Jew that as a young girl fell in love with an African American young boy back in the sixties, during the segregation laws. When she is around 70 years old, she travels back in time and meets herself right during her love story.
The writer and director Sophia Romma jumps back and forth in the tale using a bridge that links two historical periods but that is both times compromised by racism, whether it's about Jews or African Americans, or Chinese people. But she never leads the audience too far away from the sets that she's decided to use. This choice provides an atmosphere of claustrophobia that compels the audience to stay tight on the words, on the racist, deliberately awful, lines that the antagonists pronounce. Even the unusual length of the movie seems on this goal. Intent totally and successfully achieved.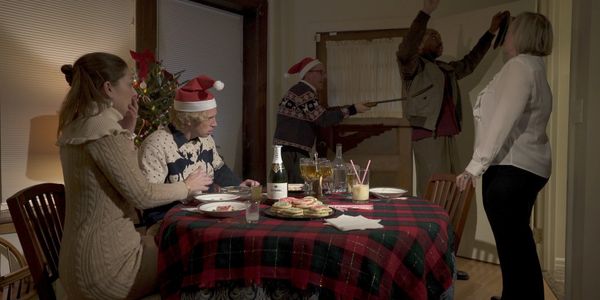 It might sound like a regular drama movie, but the use of illustrations that appear on the screen unexpectedly, the length, and the stationary direction and filmography, makes it definitely an experimental work, as the director and writer herself said.
So the writing and the acting are the most important compartments and they did not fail. Besides the two protagonists that we've already cited, we urge to mention the amazing Grant Morenz, who portrays Wade Woods, an unbearable and racist uncle.
Also incredible is the job made by Alex Voronin for the sound, that doesn't fail once, despite the very long length of the movie.
There's not a real soundtrack, but an amazing band (Queen Ilise, Gabriel Lawson, Travis Milner, Larry Ross, King Beat) that walks the audience during the story, almost like if it was an external spectator of the pain of the actors.
The warm and perfect voice of Queen Ilise caresses the characters kindly and represents an additional element that seals this movie as an experimental work.